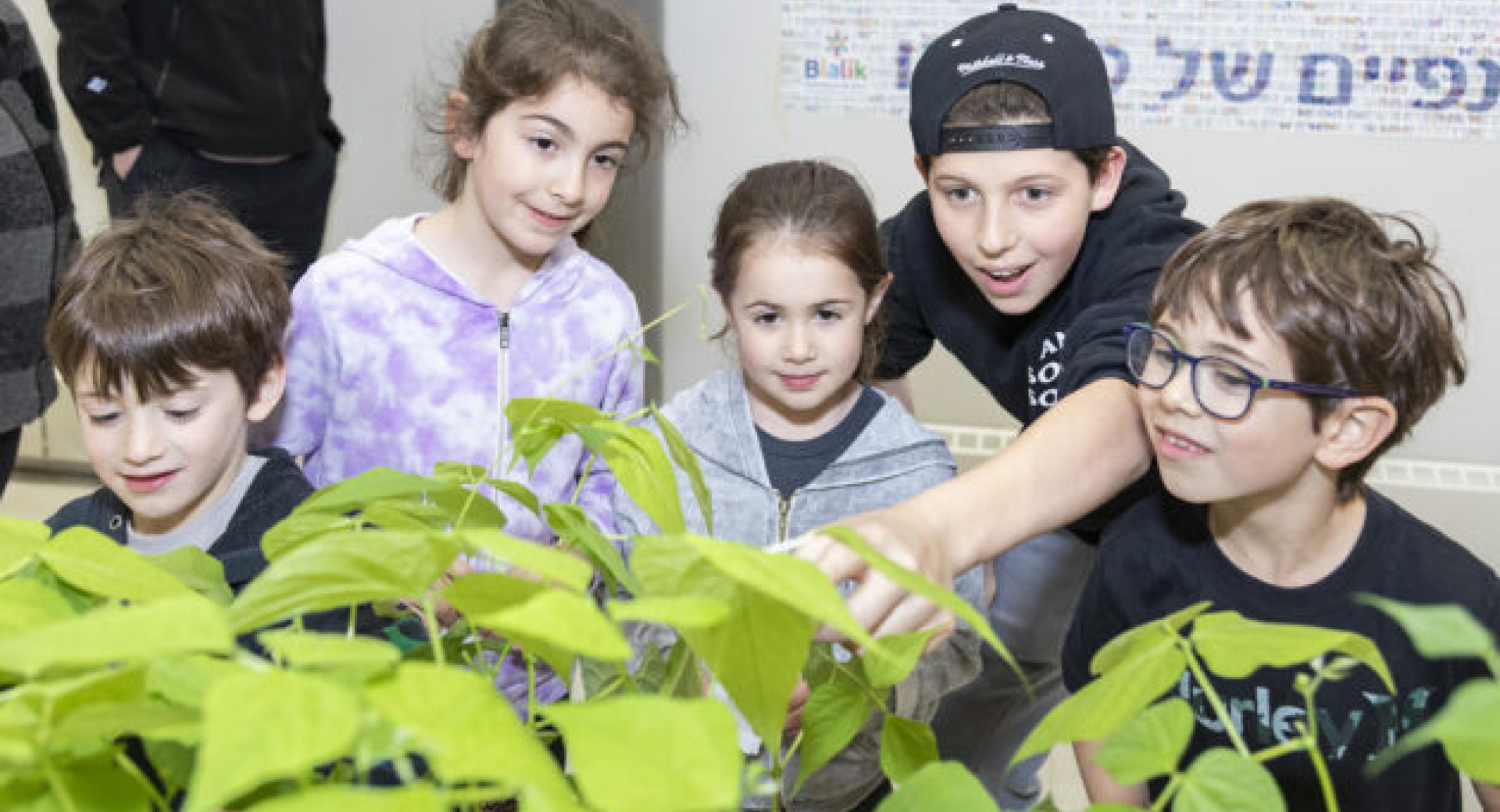 Our Bialik students learn how important it is to give back to the community and to help others — these are fundamental lessons of Tikkun Olam. Recently, we were able to take a hands-on approach to applying this value by organizing our first-ever Bialik Farmers Market at each branch.
On the day of the Farmers Market, we were all excited to see the outcome of our hard work and we were proud of what we had accomplished together. The Market was bustling with activity, as students, teachers and parents gathered to browse the various stations and hear from students about the plants they had grown. Not only had we grown our own food, we had found ways to take our learning and apply it to serving our community.
The idea for the Farmers Market came about when students first explored the concept of community gardens and how these gardens can help feed those in need. Bialik students have always collected non-perishable food items or monetary donations for local food banks. This project, however, took on a whole new level of meaning, as it allowed students to literally get their hands dirty and put their learning into action.
Over the course of several months, our students learned how to plant, water and care for their seedlings. By cultivating fresh produce and sharing it with others, they learned that community gardens can help address issues such as food insecurity and access to healthy foods. In addition, community gardens provide a way for people to come together and work towards a common goal, creating a sense of unity and shared purpose.
Despite rainy weather on the big day, our first-ever Farmers Market was an exciting event that showcased our students' hard work. It was a day filled with fresh produce, vibrant colors, and a sense of pride in what we had accomplished together.
We are thrilled that our community gardens initiative led our students to want to offer a Farmers Market to the Bialik community, not only to share their produce, but to share their learning. We were excited to give our students an opportunity to experience what it's like to grow their own food in our greenhouses and share it with others.
Our students worked together to create colorful signs and displays, as well as posters and video clips to advertise our big day. Primary students created handmade paper, embedded with wildflower seeds that can be planted after writing down a message for someone special. Our Elementary Farm Club created "seed surprises" that will grow into bursts of flowers in the garden. Students also designed microgreen sprouting kits with custom lids that were printed on our school's 3D printers. Senior Division students designed their own website to show what they learned about community gardens and how Bialik families can get involved. This website was made available to our community with a special QR code that accompanied each plant purchase. '
As well as learning about Tikun Olam through this project, another Jewish value that we were able to explore was Bal Tashchit, discouraging wastefulness and encouraging conservation. By using sustainable gardening practices, such as composting and using organic gardening methods, community gardens can help reduce waste and protect the environment.
Students were also able to practise Gemilut Chasadim — acts of loving-kindness. By volunteering time and resources to maintain a community garden, they demonstrated their commitment to helping others and improving their community.
At Bialik, we strive to give our students the skills and tools to grow as thoughtful Jewish individuals whose actions are in service to their community. By encouraging students to make connections between environmentalism, sustainability, science, social studies and Jewish values, our students were able to integrate and make meaning of all of the learning that is rooted in them at Bialik, both in General and Jewish Studies.
The first-ever Farmers Market at our school was a celebration of our students' hard work and dedication. It showed us the importance of learning about where our food comes from and the satisfaction of growing and sharing it with others. We are grateful to have had the opportunity to bring this project to life, and we hope that it has inspired our families to do the same.
Karen Lidor
Associate Director of General Studies