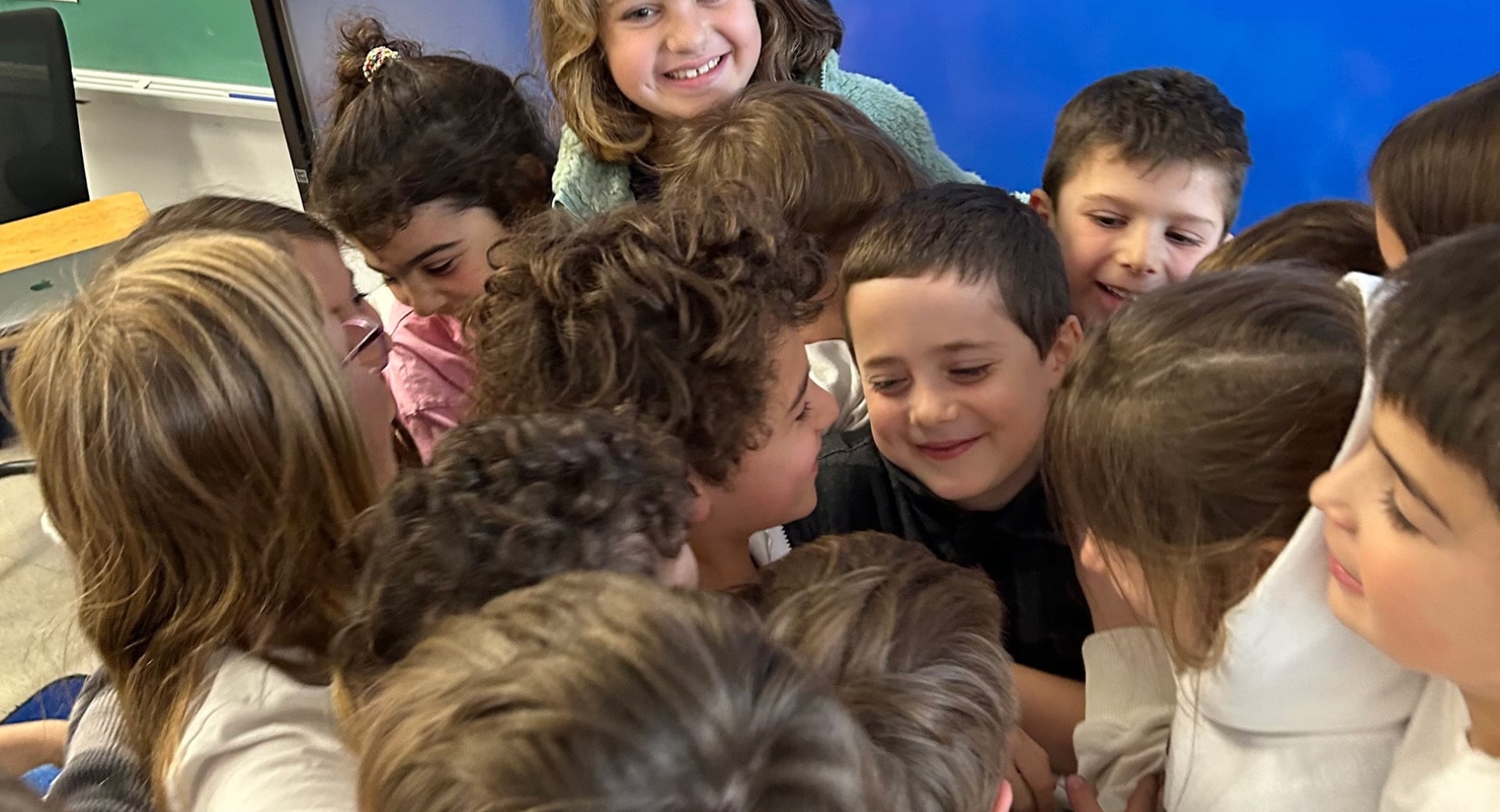 Last week, Viewmount Class 2D said "Shalom" to their friend Yonatan, who had spent the last few weeks at Bialik, and was returning to Israel. Students shared their sentiments with him: "You became my best friend so fast." "I loved playing with you at recess." "Thank you for teaching me about Israel and speaking Hebrew with me." Yonatan's General Studies Teacher shared, "Having Yonatan in our class truly gave my students the opportunity to show leadership, kindness and inclusion. They were so happy to be his buddy, play with him at recess and help him with things in the classroom. Even with the language barrier, he was able to fit into my class, learn, play and even joke around with us."
Bialik students have welcomed Israeli students with open arms.
שָׁלוֹם is one of the first Hebrew words we learn when introduced to the Hebrew language. It is used idiomatically to mean both hello and goodbye, and seems simple at face value. Yet, the meaning of the word is so much richer and layered and the root of the word Shalom — Shin, Lamed, Mem — is used to form words meaning peace, harmony, wholeness, completeness, prosperity, welfare and tranquility. Over the past month, Bialik Hebrew Day School has become a haven to new Israeli friends and families and our students are coming to appreciate what "Shalom" truly means. Our entire community is committed to providing support, comfort and a soft landing to our temporary Israeli students.
We have now welcomed 90 Israeli students across both our branches. This represents well more than half of all Israeli students welcomed to Toronto Jewish day schools and is, by far, the greatest number of such families in any Jewish day school in North America. We feel grateful that our school has been able to help these families in their time of need.
Two weeks ago, a new Israeli student in Grade 5 quickly impressed his classmates with his soccer skills. After just one recess together, his Bialik classmates picked up on his fun personality, passing accuracy, and incredible control of the ball. They went to the Athletics Director and advocated for him to be added to the soccer team, even though he had, technically, missed the team tryout! They succeeded, and they are very happy with their new teammate.
Our students have displayed huge empathy and compassion, showing great excitement in welcoming new Israeli friends and making them feel at home. In the Senior Division, students have been knocking on my door trying to convince me to pick them to be new students' buddies. And student buddies have been checking in on their new Chaverim to see that they have everything they need to feel prepared and part of the school community. They have taken new students to IT to pick up their Chromebooks, taken them on school tours, helped organize lockers, and are going out of their way to include them in recess games. We are so proud of our Bialik students for all the care, concern and protectiveness they have shown towards the Israeli students.
The acts of kindness, generosity of spirit and outpouring of support extended by our parents has been tremendous.
The amount of time, effort, and love that has been provided to one another during this incredibly difficult time, has been nothing short of remarkable. Emphasis on caring for community members is deeply ingrained in our Jewish traditions — כל ישראל ערבים זה לזה — all Jews, the people of Israel, are responsible for one another. We have many Bialik families who have direct connections to Israel and it has been comforting for them to be able to embrace these new families. We are so appreciative of our parents for extending such a warm welcome.
While meeting with every family for the first time, members of our administration have asked families if they are in need of anything. Our parents have been wonderful in quickly gathering winter clothing and other supplies that might be needed. We have even had physicians offering to provide complimentary medical services at their practices.
One Israeli parent said, "I am so grateful to Bialik. After everything we have been through, and with my husband back in Israel right now, I am relieved knowing my child is safe and happy at school. Bialik should be so proud of this gift."
Our Bialik faculty are second to none.
Our staff never ceases to amaze us. Constantly going above and beyond to provide support, it is no wonder that our incoming Israeli children have so quickly become part of each Bialik classroom community. Even though English is completely new to some Israeli students, our half-day Ivrit B'Ivrit program provides them with an immersive Hebrew language experience and a sense of familiarity that these children are longing for.
A JK teacher shared, "I am in awe of the support from the Hebrew teachers, the SK assistants and the Ivrit Bagan teacher who have been constantly coming in to help and communicate with our new JK student whenever they can."
Hebrew and English speaking volunteers from our school and wider community have been offering a helping hand to make the General Studies curriculum more accessible and to integrate Israeli students into lessons. These volunteers who have stepped forward to help our new students are making a big difference in their school lives and we appreciate their time and effort.
A wide range of Hebrew literature has been made available for our new students. In addition to academics, we have prioritized providing time and space for Israeli students to interact with one another and to receive attention for their specific and unique social-emotional needs. A Chugim program allows for individualized social-emotional check-ins. Teacher supervisors have facilitated connections among new students, with our ShinShinim and with Israeli families already in our community. Weekly Israeli and Israeli Eats Food Clubs have been fun extracurricular activities that have fostered strong friendships between our students.
In these difficult times, we are seeing some of the very best of who we are at the core. There is something about our collective approach to how we act that is just emblematic of what Shalom signifies. Our students, parents, and staff make up our incredible Bialik family and provide peace, safety, hope and joy day in and day out. We take care of one another. I am so very proud to be a part of the Bialik Mishpacha. We have banded together and are stronger than ever.
עם ישראל חי
Lauren Korzinstone
Vice Principal, Viewmount Senior Division